We offer GRANITE, MARBLE, Silestone® and Avanza® for standard and special orders.

We made "templating" & fixing service to any kitchen or special countertop customized orders.

"Templating" involves making a set of pattern worktops to your specifications & approval and being used to manufacture the final product.

The "templaters" then return with your granite worktops and fit them exactly as agreed, having the knowledge and equipment to ensure your worktops are installed with the minimum of fuss and upheaval.

We are able to attend to plumbing, cabinetwork, electrics etc, should this be necessary, thus avoiding extra charges for other tradesmen having to be present at installation of worktops.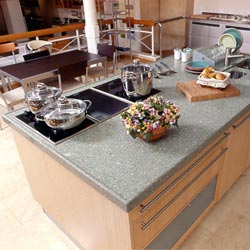 We works for: